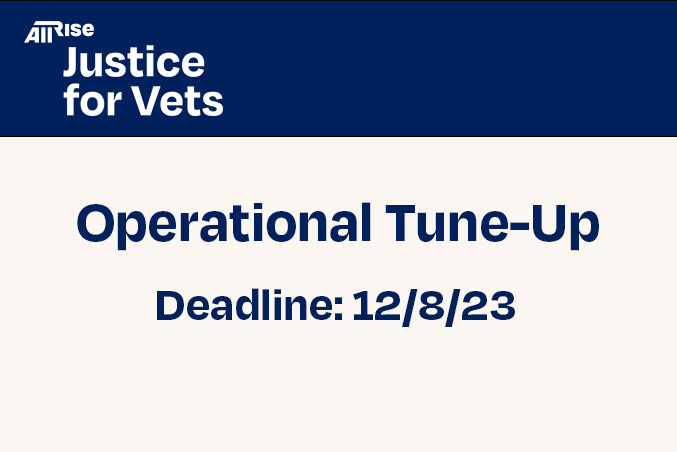 Veterans Treatment Court Operational Tune-Up
Application Deadline: December 12, 2023
All Rise's Justice for Vets is now accepting applications for 2024 veterans treatment court operational tune-up training. These trainings are free and will be conducted in person. The deadline to apply is Friday, December 8, 2023!
About the Training
This free training is designed for established veterans treatment court programs seeking to fine-tune their program to ensure that it meets the latest evidence-based best practice standards. Tune-up trainings will improve outcomes in your program by expanding your team's knowledge and skills. Programs must have been in operation for at least two years to be considered.
Each two-day training session is facilitated by seasoned experts with years of experience in veterans treatment courts and other justice-involved veteran programs. Participating teams will review the critical foundational practices of successful programs, gain advanced knowledge leading to higher success rates, and learn about innovative treatment practices.
The application deadline is Friday, December 8, 2023. Don't wait; submit your application today!
This program is supported by the Bureau of Justice Assistance within the Office of Justice Programs at the U.S. Department of Justice.